Nintendo Switch
This is my Nintendo Switch. It is one of my favorite possessions.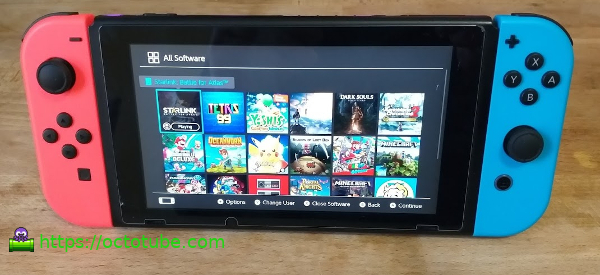 Nintendo Switch Features
The Nintendo Switch is an incredibly flexible system. It gives you the power and features of a full console system with the flexibility and mobility of a handheld system. It can be used in both docked and handheld modes. It gives you the best of both worlds. Before it was released, people were worried that it might be another underpowered system from Nintendo. After being released these worries have mostly gone away. To be fair, the system is underpowered when compared to the Xbox One X or the PS4 Pro but it doesn't even matter. This isn't the system to buy if you want top performance but keep in mind that if you really want performance, you are best off using a PC. When asked which of the three major consoles are the fastest, the correct answer is, "None of them". You chose console gaming for the exclusive games, the controllers, and maybe the convenience.
Full console that is portable ( life saver )

toilet
subway
airport and long plane rides

Docked mode for playing on the big screen
Handheld mode for playing on the go
Tabletop mode
Nintendo exclusives (Mario, Zelda, Yoshi, etc.)
Big third party games ( Skyrim, Diablo, Dark Souls, Minecraft )
Tons of indie games ( if you're into that )
Removable Joy-Con
Lots of controller options
Cartridges
Digital downloads
SD card slot for more storage
Relatively high powered (sort of)
Dock and undock seamlessly
Not expensive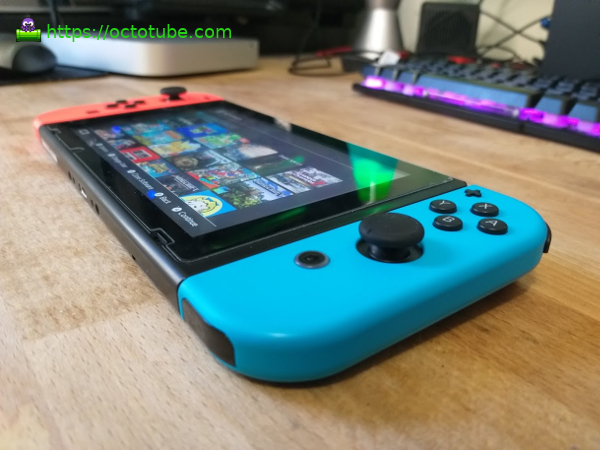 Handheld / Docked Mode - Seamless
The Switch can transition from portable to docked modes and then back again seamlessly. You can be mid-game and just decide to pop the system out of the dock and it will continue running whatever game you were playing. You don't even have to pause the system. This is the future. This is what other consoles and even PCs, tablets, and phones should be able to do. This is inevitable technological convergence and it has be implemented properly for the first time with a gaming console built by Nintendo.
Here is how it works. You can be in the middle of a game and you don't want to stop. You realize you absolutely need a bathroom break and that it might take a while. No problem! You just pause your game, pop the Switch out of the dock and carry it with you to the bathroom. After losing track of time while on the toilet, you finish up and head back to your living room. Just slide it right back into the dock and start playing on your TV again.
Docked Mode
Docked mode gives you a more traditional gaming experience. When placed in the dock, the Switch can played on the big screen. You can use it with either a TV or a monitor. External speakers or headphones can be connected. This will cut sound on HDMI cable, redirecting it to the sound device that is directly plugged in. If you want the sound to be output on your TV, just don't plug your headphones in. The system will charge while docked. You have the option to use a wireless controller, like the Pro Controller or the Joy-Con. You can also connected a wired, USB controller. The Joy-Con can be disconnected and used as your controller while the system is docked. The resolution will be slightly better when docked (1080p instead of 720p). Many people never actually do this. People often times end up using the Switch as a handheld system only. It is definitely worth being able to play in docked mode. The experience is so much more immersive.
Handheld Mode
If you aren't going to be near your TV or dock you can use your Nintendo Switch in handheld mode. This opens up an entire new world of possibilities. Now you aren't restricted to playing games at home. You can now have a serious gaming experience on the go. The system brings a whole lot more power than other mobile devices do.
Handheld mode is a lifesaver! Anytime you are stuck somewhere boring with nothing to do, you can just whip out your Nintendo Switch and start gaming. This is 100 times better than using just playing something stupid like Angry Birds or Clash of Clans on your phone. The Switch gives you the ability to play things like full 3D Zelda and Mario games using physical controllers that are attached to the device. You can even play Skyrim! Angry Birds and Candy Crush can't compete with that. Android and IOS just can't compete.
When I say that this thing is a lifesaver, I really mean it. My 30 minute subway ride feels like it is instantaneous now. I basically get on the train and start playing a game. I look up after what seems like 30 seconds only to find out 30 minutes have passed and the ride is already over. I don't even bother bring my phone with me to the bathroom. When I'm sitting on the toilet, I'm playing Zelda or Minecraft on my Switch. Long, boring plane rides are a thing of the past. I now look forward to long plane rides. The longer the better. Being stuck somewhere just means game time. Just remember to charge up ahead of time and maybe bring a charging cable with an extra battery pack.
Tabletop Mode
Table top mode is almost the same thing as handheld mode except that instead of holding the system in your hands, you place it on a table. You won't have it docked for this but you can detach the Joycons and play with the system resting on a table. It comes with a pull out stand to help prop it up. You can also use the Pro Controller in this mode. This also works great on your tray table during a flight.
Controller Choices
Joy-Con
Pro Controller
3rd party controllers
We have an article all about Nintendo Switch Controllers HERE.
The Nintendo Switch gives you a lot of great options in terms of controllers. To start, you get the Joy-Cons which are basically the default. They comes with the system but can also be bought separately. They can be connected to the system while playing in handheld mode or detached when playing in tabletop or docked mode. Some games let you use each side of the joycon as a controller by itself so that you can play 2 player games with just one set.
If you want something a bit more serious, with better grips, there is the Pro Controller. This is about on par with an XBox or PlayStation controller.
There also exist a slew of different third party controllers for the Switch. These vary in quality but give you a ton of options. It is always good to have choices.
It Does So Much
The Nintendo Switch has a lot to offer. As of today, a huge amount of content has been released for the platform. Many people bought the system just to play the new Zelda game, BOTW. It could be viewed as a $300 Zelda playing machine. Even if you buy the console just to play this one game, it is still completely worth it just to play this one game. Playing BOTW on the Switch is a much better experience than on the Wii U.
Platform Exclusives
The Switch has a bunch of Nintendo exclusives that you can't get on other platforms. These include things like:
Yoshi
Mario ( more than one )
Mario Kart
Zelda
Super Smash Bros
Metroid ( coming soon )
Pikman ( coming eventually )
Starfox ( as a special edition of Star Link )
A ton more ...
Ports / Re-releases
Some older ( and recent ) games have been remade / re-released for the Nintendo Switch:
Skyrim
Diablo 3
Dark Souls Remastered
Doom
FF7 and FF9
Yes, you can actually play FF7 and FF9 on a Nintendo system. What a time to be alive!
Bunch of Indie Games
The Nintendo store has loads of Indie games. There is no shortage of options here. It seems like just about anybody can publish a game for the Switch these days. Some of these games are junk while others are amazing diamonds in the rough.
Nintendo Switch Online
You can play a lot of old original NES games if you subscribe to the Nintendo Switch Online service. It is relatively cheap for a years subscription. It only has NES ( no SNES or GBA ) and it doesn't even have all of the NES games yet but it does have the most popular games. So far they have released Mario 1/2/3, Zelda 1/2, Kirby, and a bunch more.
Minecraft
You can play Minecraft on the Switch. This is pretty amazing. It gives you a much better experience than what you would get on your phone or tablet. It plays very nicely with the Joy-Cons. It isn't as good as using a mouse and keyboard but it is way better than using a touch screen. I have spent soooo many hours playing Minecraft on the Switch. I've actually come to the realization that if the world of Minecraft actually had a smell, it would be lemony fresh. I've spent so much much time playing Minecraft on the toilet that I now associate the smell of our lemon air freshener with minecraft.
Carts: Physical vs Digital
Physical
free storage
you can share it with people
collectable?
Digital
don't have to switch the cart
don't have to carry a bunch of carts with you
Personally, I would recommend getting everything on a cartridge, if possible. Not all games are available on a physical cart but most/all are available online. There are advantages and disadvantages of both. If you just download a game, you won't have to worry about carrying it around with you and you won't have to physically switch the cart every time you want to play a different game.
You still need to store the game somewhere though. The switch has limited internal storage. Eventually, you will run out of space. You can and should buy a large SD card. This will take care of most of your space issues. I still feel like buying a cartridge will not only give you the game but a free place to store the game. The other advantage is that you can share a cartridge with other people. You can't let your best friend borrow a digital version of the same game.
If you look through the online store you will find all sorts of things that you never knew existed. The Nintendo Switch has a bunch of really excellent games such as Xenoblade Chronicles 2.
Power and Specs
Then Nintendo Switch is much more powerful than an XBox 360 or a PS3 but not as powerful as an XBox One or PS4. Remember though, if you really want the most power, you need a PC. You can easily buy just a video card that is double the price of a new XBox or PlayStation. You buy consoles for convenience, portability, and exclusive titles. That is where the Switch shines. Ideally though, just buy one of every system to cover all of your bases, if you have the time and money.
3.5 mm headphone jack
no bluetooth headphones
Display:

Handheld: 1280 × 720p, 6.2-inch (237 ppi)
Docked: 1080p with HDMI

Memory: 4 GB LPDDR4
Internal Storage: 32 GB eMMC
Removable storage: microSD/HC/XC (up to 2 TB)
SoC: Nvidia Tegra X1 SoC

4 ARM Cortex-A57 CPU cores
4 ARM Cortex-A53 CPU cores
256 Maxwell based CUDA GPU cores

Wifi: 802.11ac (802.11 a/b/g/n/ac modes )
Bluetooth ( in docked mode )
USB ( in docked mode )
Battery

4310 mAh, 3.7 V Lithium-ion
rechargeable
non-removable